Read More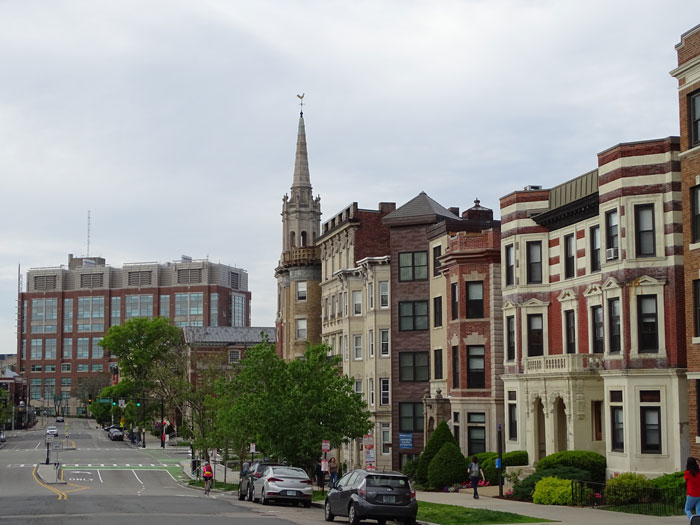 Widely regarded as one of the best suburbs in Boston, if not the entire United States. Close enough to be an easy commute to Downtown Boston, yet worlds away in terms of atmosphere and feel, residents love living in the picturesque city. And while access to Boston's world-class dining scene is definitely a bonus, Brookline locals know that you don't have to leave town to find amazing cuisine.

Excellent Bistro Fare at the Washington Square Tavern
No discussion of the best restaurants in Brookline, MA would be complete without mentioning the WST. Brookline's self-proclaimed "benchmark restaurant," you'd be hard-pressed to find anyone to argue the point. A classic spot that excels at classic fare, Washington Square Tavern blends locally-sourced ingredients with top-tier kitchen talent to create something like the platonic ideal of your favorite gastropub fare.
This focus on execution extends to the drink menu: this classic spot excels at classic cocktails. That said, WST regularly switches things up, and exploring the different menu options can reveal hidden treasures like the Honey Badger — a tea-infused Lexington bourbon mixed with Angostura bitters, lemon, and honey — that prove the highlight of your visit. A beloved date spot, the cozy atmosphere can get downright hopping during peak hours.
And if Sunday brunch is your thing, be sure to swing by between 10am and 2:30. The Traditional Irish Breakfast — serving up rashers, bangers, black & white pudding, and baked beans with two eggs, home fries, a side of fruit and sourdough toast on a sturdy wooden cutting board — is a local favorite for good reason.
Grab a Messy Sandwich at Seven Subs
Here's a place that you won't see gracing any lists of Boston's most exclusive, elegant dining destinations. But if you want some of that literal local flavor, Seven Subs is the sandwich counter that the Subways, Blimpies, and Quizno's of the world fantasize about. Don't plan for a sit-down dining experience: this is all about picking up some amazing grub to go.
A perfect example of what makes Seven Subs so great is The Unforgiven — a roast beef sandwich with barbeque sauce, potato salad, and melted provolone on a toasty sub roll — which is basically impossible to eat without making a giant mess. Hearty and satisfying, basically everything that Seven Subs serves up is awesome. But be warned: this place can straight-up ruin franchised sub shops for you. Once you realize how good a sub can be, it's hard to settle for less.
Slurp up Sapporo-Style Ramen at Ganko Ittetsu
A Coolidge Corner favorite, the award-winning Ganko Ittetsu serves up delicious, authentic Sapporo Japan-style ramen… and that's it. Frankly, that's all they need. The epitome of doing one thing extremely well, Ganko's menu includes six types of Ramen, with the Gankara Miso — Tan-Tan pork, 5-minute egg, sauteed bean sprouts, wakame, scallions, nappa cabbage, corn, and sesame seeds in a spicy miso broth — delighting fans of Authentic Japanese cuisine.
Much like the difference between New England and Manhattan clam chowder, different Japanese regions have their own spin on cuisine, and ramen is no exception. Located on the northern island of Hokkaido, Sapporo shares a remarkably similar climate to Boston with warm summers and cold, snowy winter months. Thus, Sapporo-style ramen is a decidedly perfect fit in Greater Boston. Popular enough that there's usually a brief wait, Coolidge Corner is probably the best place to kill a couple minutes waiting for a table in Brookline.
Keep it Kosher at Rami's
Some of the best restaurants in Brookline, MA keep things spicy by changing up their menu on a regular basis. At Rami's, however, the menu has remained consistent since Rami and Mirav Cohen opened their doors in 1990. As the saying goes, if it ain't broke, don't fix it — and as one of Eater Boston's picks for the best Middle Eastern Food in Boston, Rami's brings the goods every time.
A legit Glatt Kosher establishment — right up to closing at 2pm on Friday, and staying closed through Saturday, as well as various Jewish Holidays — Bostonians of any and every background flock to Rami's for the deliciously crisp falafel, tasty boureka puff pastries, and what might just be Boston's best Shawarma.
Get a Taste of Spain at Taberna de Haro
The small plates craze owes its popularity in large part to the introduction of Spanish Tapas, and if you're looking for the best Tapas in Brookline — arguably the best Tapas in Boston — then Taberna de Haro is a can't-miss destination. All the tapas are worth your time, but the patatas bravas is a can't-miss dish.
Even more impressive than the small plates — if such a thing is even possible — is owner Deborah Hansen's extensive, impressive, and practically exhaustive all-Spanish wine list. Just don't miss the fantastic sherry, or one of the best martinis in Boston in the Straight Law, served at the in-house cocktail bar of the same name.
Some of the Best Restaurants in Boston in your Backyard
To describe Brookline as simply a Boston suburb — even an exceptional one — does the city a disservice. Yes, it's part of Greater Boston, and yes, convenient access to The Hub is one of the major perks of living in Brookline, but make no mistake: Brookline is its own city, and its local cuisine stands up to anything in the greater Boston metropolis.
It's so good in fact, that we've barely scratched the surface. We haven't even mentioned excellent coffee shops like Temptations Cafe, award-winning pastries at Kupel's, and excellent late-night gastropub The Publick House (well, until now, anyway). It speaks well of Brookline's culinary scene that we've had difficulty finding room for all our favorites.
Now it's your turn. Anything we missed? What are your favorite restaurants in Brookline, MA? What would you highlight in a local guide to restaurants in Brookline, MA that we missed? As ever, we're always on the lookout for hot new spots, so don't be shy: let us know in the comments!